Pedelec
Treat yourself to a special nature experience the convenient way – with a pedelec.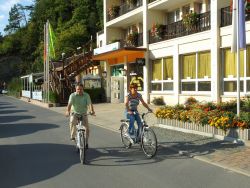 A pedelec is a pedal-cum-electric cycle. Your own muscle power acting on the pedals is boosted by an electric motor. Rises and headwind no longer detract from the enjoyment of your cycling tour, the less so as a pedelec is highly reliable and very easy to operate.
Click here to know more about this.
The hotel owns four PEDELECS you can rent against a fee. In addition, there is a number of new touring bicycles available for cheap renting.